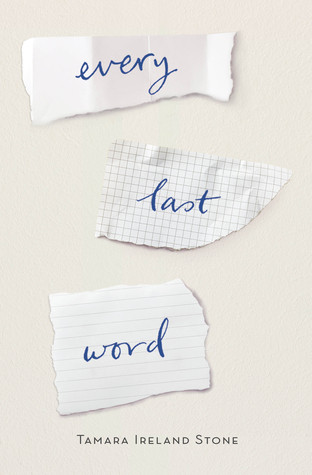 Title: Every Last Word
Author: Tamara Ireland Stone
Genres: Contemporary | Realistic Fiction | Romance
Length: 352 pages | 4992 locations
Source: Netgalley
Format: Mobi
Rating: 4.75/5
Premise:
Samantha seems to have it all: a great family, popular friends, nothing missing. But she has a big secret no one knows of: her OCD. No one must know about her condition or how it affects her in the smallest things or that she has to see a shrink every day.
One day, Samantha meets Caroline, who introduces her to a group of misfits called the Poet's Corner. As she gets to know these people and lets poetry be an escape, she gets a glimpse of what it feels to be normal and healthy, until a major revelation shakes that up and makes her doubt everything.
Review:
What an awesome book.
It was so great to finally read about a 16 year-old I could relate to.
Example:
"You're not overreacting.", she says.
"Are you sure? Because you can tell me if I am. I have a tendency to over think things, especially when it comes to my friends… I take things too personally. I mean, it isn't always them. Sometimes it's me. I just don't always know when it's them and when it's me, you know?"
Even though I do not suffer from OCD, I am an insecure person, and I relate to this a lot.
Who would have thought I would be posting this on my blog… The fact is this book is so emotional and the message about struggling not to hide anymore is so strong that I feel like exposing myself to that level.
Samantha is actually in a great social position, unlike all the misfits we usually read about, since she is part of the group of popular girls in high school. She wears a lot of makeup and cares about the way she looks.
However, even her friends do not know about her secret, that she suffers from OCD and the fact is Samantha starts wondering if they really are her friends, since they seem more and more shallow each day and not to care about her feelings.
I felt for Samantha and her struggles to sleep and not let the terrifying thoughts take over her mind and body.
And then there's her family. It was so wonderful to read about her supportive mother, who did not only not ignore her daughter's condition but always knew how to comfort her and get her through her problems. Always listened to her, made herself available. I have to admit I would have like to see another side to her because that had to be exhausting, instead of her just being the perfect mother but it was so refreshing that I did not really care.
And I liked AJ so much. He suffered a lot and managed to overcome his past, taking the bad experiences and reshaping himself into a young man far from perfect and fully confident but absolutely adorable. I loved his speech about the difference between being fake and attentive towards someone.
I was with this book every step of the way. It was a really chore putting it down whenever I really had to – and I really procrastinated on every single thing. It was just so amazing reading about Samantha, who had normal 16-year-old problems besides the mental ones, and somehow never seemed annoying to me. Well, whenever she would go on about how the boys were so cute she did get a bit annoying, particularly the major crush of the story, but that totally fits with her obsessive personality so even if I did not enjoy it that much I understood it.
And the plot twist. I never in a million years saw it coming, even though I thought it was odd that Sam could not seem to differentiate between what was real and what wasn't when she was having one of her fantasies. It blew me away. So much that it was 3 in the morning and I could not put the book down. I am writing this on major sleep deprivation due to this. No matter. It was well worth it.
There were few things that I wish I would have seen, some of which I don't even recall anymore. These are the ones I do remember:
I wanted to known what AJ's mother's reaction was to him dating the girl who put him through hell – that cannot be easy for a mother. I wanted to see more conflict in AJ trying to adjust to the idea of this new Samantha being the same person as the one who caused him so much pain in the past, what he thought as his feelings were changing. And if Sarah left the Eights to join her Drama Club friends, then Samantha should have come across her at some point, right? Spending so much time in the theatre and all. I wanted to see them talk, particularly about Sarah having been shunned, I think that would have brought a nice dimension to the story.
I cannot recommend this book enough. Read this if you want to get into the mind of someone who appears normal on the inside but has to deal with a serious mental illness every day since a young age.
Disclaimer: I would like to thank the publisher and Netgalley for providing me a free copy of this book in exchange for my honest review.
Read from Aug 17 to Aug 19, 2015
GR Review