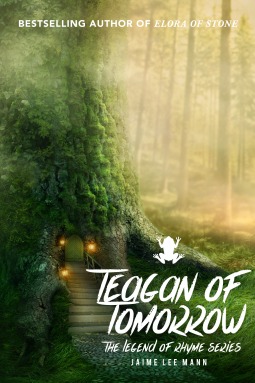 Title: Teagan of Tomorrow (Legend of Rhyme, #3)
Author: Jaime Lee Mann
Genres: Adventure | Children | Fantasy
Format: Mobi
Length: 144 pages | 1505 locations
Source: Netgalley
Rating: 3.75/5
Premise:
After evil has been banished again, Asher and Ariana find themselves in a different time. Everything seems dangerous and they have no idea what the purpose of modern things is. Can they stay safe? Can they return to their time and be reunited with their parents?
Can a girl named Teagan, who looks remarkably like Ariana, be the key to get them back home?
Review:
First of all, oh my gosh, look at that cover. How pretty. I am sure children will love it and feel drawn to it.
Regarding the contents, they were pretty good as well! Even though this book is clearly part of the Legend of Rhyme series, it is very different from the previous because the characters are older from the get go, and part of the narrative takes place in modern times, which makes it very easy to relate to Teagan and her struggles.
And when odd things start to happen to her, well then, things start getting interested and the reader is sure to become engaged, regardless of the age.
Miss Jamie painted beautiful pictures with her writing. Her words were striking in different ways, from her descriptions of the world awakening under Teagan's magic to Grimblerod's diet – she can do both pretty and ugly so well.
Her descriptions of our world viewed by people from another time were also spot on and tremendously engaging.
One of my favourite things about this series are the questions for discussion at the end of the book. It both takes the book to another level and hints that some of the things that bothered me due to being unanswered will be approached in further book(s).
I also loved the Caine family tree – sadly, it was unreadable in my Kindle, the picture was too small. It is a huge help though, since several characters were introduced in the previous book.
Teagan of Tomorrow is one of the best books in the series so far.
However, I felt it ended too suddenly. It was too short and it felt like not much happened, especially because some information was repeated. For instance, almost everything Elora had told Teagan (like about the pendant or her heritage and other things) was later repeated by Calla and/or Freya. Otherwise, it would easily be my favourite of the bunch.
Also, I am always weary when it comes to time travelling. I suppose it's fine if the travel is to the future, but when it comes to the past it is a whole different matter. It made no sense to me whatsoever that Grimblerod would return to goblin/toad form or that Sibley would return to a fairy – especially since she was not even born back then. I suppose some theory could be created that travelling back in time cancelled the spell to turn them human, but then why did it not cancel the previous spell as well? I didn't even get to know what the new evil was or what became of it…
Alas, lots of questions left unanswered, as usual. But I still had a lot of fun and thoroughly enjoyed reading Coraira's descriptions. Jamie Lee Mann has a way with words that just carries you away. I love how she uses different verbs to describe the characters' actions, not just he or she 'says' something. And I appreciated how she would use other senses to awaken the reader's interest, particularly scent. I am not even that big a fan of pie and I was salivating! Probably because I felt how hungry the characters were.
So even if I was not 100% satisfied with the book because I wanted more and because I wanted several questions answered before diving into the next book in the series, this is one of those reads that is more about the journey than the destination.
And as I mentioned before, I believe older audiences will appreciate the book just as much as younger ones. So do dive in – but make sure you read the previous two, or you won't get much of what is going on.
Looking forward to the next book in the series. That sneak preview at the end was incredibly interesting.
Disclaimer: I would like to thank the publisher and Netgalley for providing me a free copy of this book in exchange for my honest review.
Read from Sep 05 to Sep 07, 2015
GR Review