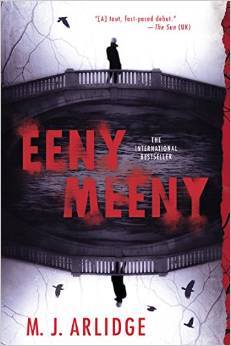 Title: Eeny Meeny (Helen Grace #1)
Author: M.J. Arlidge
Genres: Crime, Mystery, Thriller
Length: 420 pages
Source: Negalley
Format: Mobi
Rating: 2.75/5
Premise:
All over Southampton, odd crimes are occurring: two people are abducted and imprisoned in a remote location with a gun and an ultimatum: if you want to live, you must kill.
As days go by and despair kicks in, can they resist this sick game?
Who is worst off – the one who dies or that who has taken a life?
Do these victims have anything in common or are they randomly picked?
It is up to DI Helen Grace to face her own inner demons while trying to figure out who is behind the whole thing and bringing them to justice.
Review:
Eeny Meeny is an extremely dark book. That does not usually bother me but in this case it felt a bit forced.
For instance, the main character. While the concept is refreshing, the fact is I felt pushed into liking this hardcore cop with a secret heart of gold and a sado-masochist side looking for redemption. I lost track of the times I read that she was the perfect female cop because she was so committed to her job and wanted nothing to have with either alcohol, men or babies.
The constant remarks about how attractive her colleague Charlie Brooks was and how that was a nuisance to her being able to perform her job were equally annoying.
I wondered for a long time what the book tried to be. I am not that used to reading procedural books but I have watched several TV series and I have to admit the novel sounded weak on that front. A lot was left unexplained and several things felt simply much too convenient.
The narrative was well written. We follow several characters around, not just DI Helen Grace, and those are interspersed with moments from someone's childhood. The way the chapters were started and ended was extremely intriguing and made me want to keep reading.
Little hints are given here and there to make the puzzle all fit in the end. At some point I did see where it was headed (mentioning the top bunk was a major lead for me) but I would still consider the revelation surprising.
There were a few inconsistencies, like us being told that Amy's nails had been bitten to the nick and then they were long when she was brought in after escaping. Or the serial killer's description. She turned out to be extremely muscular and neither of the survivors described her that way.
I was not a fan of the red herrings. It felt like filler.
The formatting of the book hindered my enjoyment as well. Often times, there would be a new paragraph with a change of voice and not a single thing would tell you that. And I don't just mean that there wasn't a new page with a new chapter numbered and all. There wasn't even so much as a new paragraph. Two sentences back to back, one from a previous chapter and the other the next one. Can you imagine how confusing that was and how you'd have to keep backtracking?
In the end, I did enjoy the mystery. I enjoyed trying to figure out who was doing it and why, while at the same time exploring the limits of human desperation. Watching the survivors try to cope with guilt and the outside world was even more daunting than all the gross stuff (ew, maggots).
I had actually never read a British crime novel and thoroughly enjoyed the atmosphere, as well as the British slang.
I just was not sold on the procedural front and felt the book could have been much better. The ending left me quite unsatisfied, after all that build-up. At the very least, I like to finish a story knowing how the killer had access to the means and resources required to performed what they did, not just why they did it. There were just too many times when I felt the author took the easy way out telling the story and it really could have been great one. Shame.
Alas, I enjoyed it, but know there must be other books of the genre far more satisfying than this one.
Disclaimer: I would like to thank the publisher and Netgalley for providing me a free copy of this book in exchange for my honest review.
Read from Sep 21 to Sep 26, 2015
GR Review