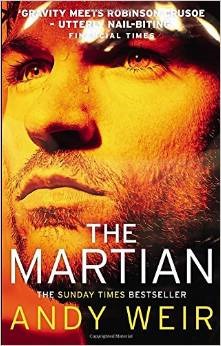 Title: The Martian
Author: Andy Weir
Genres: Adventure | Science Fiction | Thriller
Length: 369 pages
Source: Purchased
Format: Paperback
Rating: 4.5/5
Premise:
Mark Watney was part of a crew of 6 astronauts on a mission in Mars. Due to an accident and a case of extremely bad luck, he's stuck alone on the planet with no way of communication with Earth or his colleagues. This is the story of Watney's fight for survival.
Review:
I have been hearing great things about this novel for a while now and since the movie adaptation is about to premier I figured I would get to the book before watching it.
When I first started reading The Martian I was pretty confused. There were several technical terms that I had no idea what they meant and it took me forever to grasp from the concept what those things were. I actually had to google their meaning.
Also, I kind of wish I had got a bit of an introduction explaining how life was on Mars on those few days the rest of the team was there.
However, Mark's character grabbed my interest from the get go. At first, I was quite shocked by his unwavering resilience in such a situation and found his optimism unrealistic. But the fact is his sarcasm was as good a form of denial as ever and his charisma is what reeled me in. He faced such dire situations and his humour was always there, thrusting him forward. I admired him.
I am not sure how feasible it would be to move so many resources to save one man but the entire concept is very american dream taken to extremes. It was amazing how it practically turned into an outer space reality TV show. The entire world seemed to want to see Mark pull through.
The NASA scientists and admins' discussions also seemed plausible and the humour was a great plus that kept the nerdy talk from getting unbearably boring.
All the science talk still got a bit dull, and that is mostly why I am rounding it down to 4 stars. It was just a but much at some points. I did not always understand, agree or foresee a good outcome out of Mark's decisions, at least one that would compensate the risk; in fact, I had to skip a few ahead because it did get tiresome.
However, for several periods of time I would only put the book down when I absolutely had to. I laughed out loud reading Mark's words on numerous occasions. His ingenuity and resilience never ceased to amaze me, nor his ability to be plainly inconvenient.
I had a great time reading The Martian and vividly recommend it, though I have to say… I have no idea how Matt Damon could pull this character off in the movie adaptation. I simply cannot see him capture the obnoxious but endearing character of Mark.
Read from Sep 26 to Sep 28, 2015