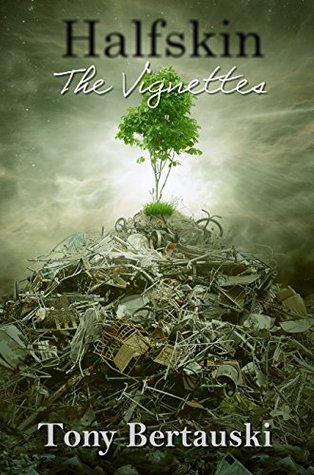 Title: Halfskin (The Vignettes)
Author: Tony Bertauski
Genres: Dystopia | Science Fiction | Speculative Fiction
Format: Mobi
Length: 258 pages | 1449 locations
Source: Author Newsletter / Promotion on Amazon
Rating: 4/5
Premise:
A summary of what happened when biomites were introduced to the world.
Review:
When I got this book as a gift from the author's newsletter, it was presented as a prequel.
Now a prequel can be defined as noun 1. a literary, dramatic, or filmic work that prefigures a later work, as by portraying the same characters at a younger age.
So imagine my surprise when I start reading it and everything, for some reason, sounds familiar. I recognized all those stories I enjoyed reading so much from Halfskin #1. There they were interspersed with the main narrative and that construction was part of why I enjoyed that first book so much.
As I read on, I identified more and more episodes of all the trilogy's books, some of them I consider quite spoilery (particularly the cube).
Having read the trilogy before, this just felt like a bunch of lines already written put together with a bit something extra and that was immensely disappointing for the majority of the short story.
As a prequel, I had expected a bit more background on how the world became what it was. There was clearly an attempt to do that but, in my opinion, quite glossed over to get to the juicy bits.
So why the high rating instead of a 1 or 2 or even 3 stars?
Well, for one, the last chapter saved it for me. I do not recall reading about charges at all and it was a great concept that somehow seemed to summarize the entire biomite ambition era.
Secondly, I really, really love Tony Bertauski's writing.
Repetitive as it was, I did enjoy diving into the biomite universe all over again.
And finally, I accept that not everyone would feel the way I do. I know that I, personally, would be incredibly disappointed if I had read this 'prequel' and then moved on to book 1. The sense of deja vu would kill me and I would feel tempted to skip those chapters and then feel guilty about it if I did.
But others may find it had just enough interesting content to get them to move on to trilogy and not be bothered by that feeling at all. Who knows?
So I still recommend it, just in my personal opinion not as a prequel, as I feel the trilogy should be savoured in all its glory. I view it more as a great, thought-provoking sum up of it and would read it a long time after going through the trilogy to refresh my memory.
Note: This is good quality dystopia/sci-fi/speculative science, folks. I highly recommend looking up the author's site because if you sign up to his newsletter you will receive FREE BOOKS and see for yourself.
This book is also free on Amazon; click here!
And on a final note, there's no way this book is 258 pages in print, I read it in one sitting and I cannot even begin to tell you how rare that is even if the book is awesome.
I could also tell by the speedy way the percentage on my Kindle advanced and the number of locations.
Disclaimer: I would like to thank the author for providing me a free copy of this book in exchange for my honest review.
Read on Jan 04, 2016
GR Review