January was a month of surprises!
I read things I had never tried before while working my ass off. I think that's mostly what kept me sane.
I watched only one movie, wish I could have had time for more but I enjoyed it for the most part.
Recreationally speaking, even with the lack of time and brainpower I have to say I had a lovely start of a year.
---
Summary:
Total Books Read:5
Longest Read: Probably Monsters (359 pages)
Shortest Read: The Red Mohawk (244 pages)
Book of the Month: Probably Monsters
Favourite Cover:
Challenges Progress:
GoodReads: 5/50
2016 Netgalley & Edelweiss: 3/?
---
January Books:
The first book I finished in the new year was Probably Monsters, by Ray Cluley.
These stories will speak to you in more ways than I can count.
Alas, I have finally come to terms with the fact that I will most likely never fully enjoy the short story genre but this anthology was definitely worth my time and I highly recommend it.
I rated it 4.25/5 stars. For fans of short story anthologies I am sure it will be close to if not a full 5 stars.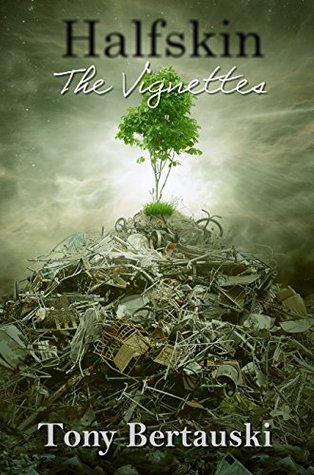 I then moved on to a novella from someone who has quickly become one of my favourite rising authors: Halfskin (The Vignettes) by Tony Bertauski.
Having read the entire trilogy already, I was disappointed for a large if not most part of the story, because it had been presented to me as a prequel and most of it was a repetition of what I had already read in the trilogy.
However, it was a joy to return to the biomite Universe and there were a few new things here and there so I still enjoyed it.
I rated it 4/5 stars.

The third book I read in January was Astrum Divinus, by John D. Christopher.
I found the writing style and world description refreshing but, as a whole, it was not an impressive book.
There was a huge effort to create an intricate plot and yet I finished it feeling as if things were not properly explained or developed or maybe there was just so much stuff I did/could not remember that was important. The character development was lacking as well.
I still enjoyed it somewhat, most likely because of the novelty of the writing – even if chunky a lot of the time – than anything else.
I rated it 2.5/5.
Next came a creepy one. The Red Mohawk by Anonymous was like nothing I had ever read – which is not necessarily a good thing.
It takes a special kind of humour to appreciate this depraved story, which I did try to engage in, but nonetheless it failed to distract me from the plot holes.
Considering how clichéd the story is supposed to be, the characters and world were pretty well developed but too much was left unexplained.
I rated it 3/5 stars.
The last book I finished in January was one I have been meaning to get to for quite a while now, Lock In: A Novel of the Near Future (Lock In #1), by John Scalzi. I actually started by following the author's blog with no intention of actually buying anything but then I read this blurb and thought I could not miss it. I bought it a couple months ago and finally read it.
I struggled a bit with the story, particularly in the beginning, but the concepts were very intriguing and I definitely recommend it. A crime investigation set in a future where people are affected by a virus that locks them in their own minds? Good pace, nice plot, right amount of humour and bitterness with several tough subjects being addressed.
I rated it 4/5.

---
Where I got the books:
Author:
Book Depository:
Lock In: A Novel of the Near Future (Lock In #1)
Netgalley:
Probably Monsters
Astrum Divinus
The Red Mohawk
Promotions
Movie Reviews:
Other Posts in January:
---
How was January for you?
Do you have a Wrap-up post? Please link it below!