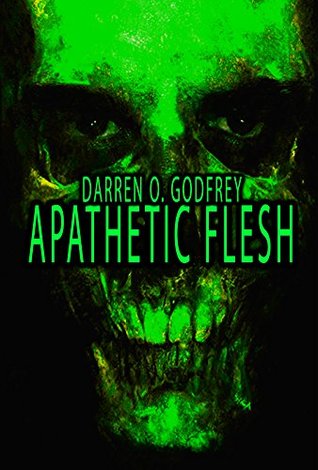 Title: Apathetic Flesh
Author: Darren O. Godfrey
Genres: Horror | Paranormal | Short Stories
Length: 328 pages | 5124 locations
Source: Netgalley
Format: Mobi
Rating: 3.75/5
Premise:
A creepy short story anthology.
Review:
This has got to have been one of the first books I requested from Netgalley. I am not sure why it sat on my virtual shelf for so long. Maybe it was the amateur cover or I was just not in the mood for short stories – which I have to admit I seldom am. Alas, I picked it up and I have to admit it was quite intriguing.
I also have to admit I am surprised there do not seem to be barely any reviews about it anywhere. This was actually pretty good. The stories are linked by comments which I am not even sure are real or not but definitely sound that way, which of course is extra creepy.
This is a very particular kind of horror. I for one had never read anything quite like it. There is a generous amount of gore but most of all plenty of mystery and psychological horror. The narratives built up suspense at a steady, nail-biting pace and several ended in crafty and mesmerising plot twists.
Both the characters and the situations they were in were quite unique. The prose was, for the most part, very engrossing, even if it lost me at times. The author definitely has a way with words, though, and I was quite enthralled during some of those tales.
Alas, at times, I wasn't sure what to make of the stories. The blurb says they are about normal people but I have to tell you, some of those main characters did not strike me as very normal, least of all their reactions. So I guess you have to put that aside for a bit, that 'how would a normal person react in this situation?' and go with the flow.
That did bring an extra macabre edge to the stories. So even though I didn't enjoy all of them greatly and did not even understand some, I have to admit it was a pretty cool ride.
It's quite good, I recommend it to fans of horror and short stories.
Disclaimer: I would like to thank the publisher and Netgalley for providing me a free copy of this book in exchange for my honest review.
Read from Apr 26 to Apr 29, 2016
GR Review