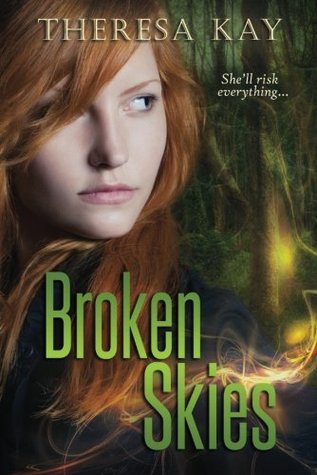 Title: Broken Skies (Broken Skies #1)
Author: Theresa Kay
Genres: Adventure | Dystopia | Post-apocalyptic | Romance | Science Fiction
Length: 276 pages | 3823 locations
Source: Netgalley
Format: Mobi
Rating: 3/5
Premise:
Jax is not going to be Promised to any man. She has a plan. She is going to escape with her brother Jace.
Just when she is about to break the news to him, Jace gets kidnapped by alien fiends. Now Jax has got to do everything in her power to get him back and, for that, she will count on the help of an unlikely ally. In the process, she will learn things about herself she never dreamed of.
Review:
My first impression of this novel was not positive at all. Within the first few lines I asked myself what I had gotten myself into and that feeling increased as I read the first couple of paragraphs/chapters.
I immediately disliked the main character because she struck me as intensely immature. Demanding people to call her by her nickname, the rants, the tantrums, good grief…
Then there was all the flushing and the letting out of breaths she didn't know she was holding and the stopping what she was about to do because she hadn't realized what she was doing, etc, etc.
An awkward love triangle forms almost immediately and although its development was out of the ordinary it still felt clichée.
As I was reading, I guessed I was supposed to be moved by the relationship between Jasmine aka Jax and her brother, but the fact is I felt he was just a prop to make the plot advance. Jax was supposed to go on a trip with a mysterious, beautiful looking alien, so let's make the purpose of said trip saving Jax's brother, shall we? For the preparation and the journey itself, Jax will feel maddeningly drawn to the alien, but obviously constantly denies her feelings because he is an alien and just so damn rude and obnoxious. Or is he? No… No, he isn't. She is, though.
As the story develops, Jax remains annoying though there is some growth. For the most part though, her mood switches between hot anger and icy fear – expressions, or variations thereof, which were repeated to exhaustion throughout the book.
Some revelations surprised me, others not at all. The book didn't get exciting for me up to the last 15 or 20%.
However, the fact is the writing does not give pause for break. It is a fast paced book and although a lot was left unexplained (Why are children, both human and alien, sick? Why was Lir on the clearing? Why did his kitu stop working? Why didn't the other aliens wait for him before returning to the city? And so much more) or did not make sense (example: if the aliens' blood was green, why did they blush red and their infected wounds were red instead of dark green?), the fact is I was not bored I got through it pretty quickly.
I realize I am not the right audience for this book and that what I found annoying others may find exciting. Therefore, I recommend it to teens/young adults who enjoy sci-fi and romance; I believe they will find it very entertaining and difficult to put down.
Disclaimer: I would like to thank the publisher and Netgalley for providing me a free copy of this book in exchange for my honest review.
Read from Jun 03 to Jun 05, 2016
GR Review