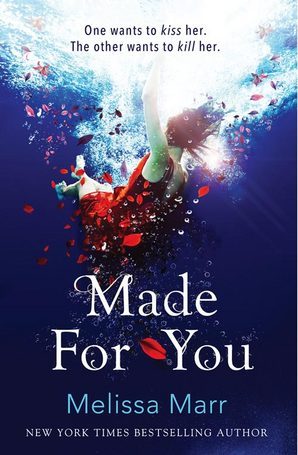 Title: Made for You
Author: Melissa Marr
Genres: Contemporary | Mystery | Paranormal | Psychological Thriller | Romance
Length: 336 pages | 3285 Locations
Source: Netgalley
Format: Mobi
Rating: 4.5/5
Premise:
Eva is part of Jessup's elite and leads a comfortable, safe life until she is hit by a car. Suddenly strange things start happening and it is up to her and a long time lost friend to figure it out.
Review:
It has been ages since I actually had trouble putting a book down. Made for You surprised me from the get go. It is obviously YA but I read it as a psychological thriller peppered with romance that was the focal point and ended up loving it.
There were a few things off here and there. For instance, the main character and her best friend never really sounded 17 to me, but much older. I just could not get how growing up in such an environment could produce such a mature young woman instead of a totally spoiler brat due to her status, but Eva grew on me. And then when the other voices start adding their input to the narrative things got even more interesting. I mean really interesting. That killer… Wow. And Grace. She became not just the main character's sidekick but had her own voice.
I did not read the blurb until a few pages in so up until then I had no idea what was going on with Eva and was quite baffled but in a good way. Then it was like oh, that's what's happening… Such a shame that some synopsis spoil great event turners.
I figured out who the killer was within a few pages but oddly enough that didn't ruin the experience for me because the things that are happening are so interesting and his narrative is just so twisted that you cannot help to want to learn more.
There were definitely a few things I felt were important to explain, such as what exactly Eva did to trigger all this and Nate's change was just too dramatic, I wanted to know exactly why they broke apart and why he said that thing at the party, I felt there was never a proper apology, and their reunion was definitely too sudden. Also, Eva's ability kind of felt like a prop to the whole story, never really explained. Basically all the things that aimed this book to a YA audience instead of mystery/psychological thriller, but overall this was a pretty amazing read that truly surprised me and I definitely recommend it.
Disclaimer: I would like to thank the publisher and Netgalley for providing me a free copy of this book in exchange for my honest review.
Read from Aug 24th to Aug 27th, 2016