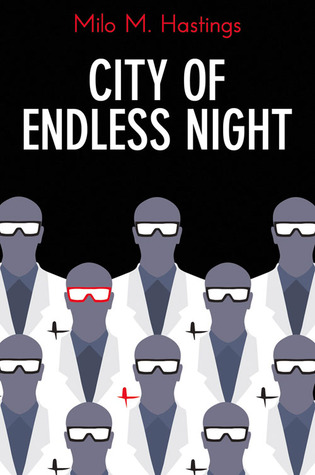 Title: City of Endless Night
Author: Milo Hastings
Genres: Dystopia | Science Fiction | Speculative Fiction
Length: 256 pages
Source: Purchased
Format: Paperback
Rating: 4.5/5
Premise:
After the first world war, Germany evolves to an underground, impenetrable city that the world outside keeps trying to defeat. One young man does not understand why such a war as gone on for over a century and will do anything in his power to change it. Going on this adventure will allow him more insight on such a society than anyone thought possible.
Review:
I have to admit I struggled with the writing on this one. This is completely different from anything I have read. The book was written in 1919 and I found the prose difficult to understand at times (English is not my native language), quite contained and very matter of fact. Yet, I still felt engaged. The book has strong politic and socialist components but it leaves room for more humane assessing as well. There is a bit of romance and enough tension of all sorts to want to keep reading.
However, right from the beginning there were things that irked me, namely how everything came together for our main character. As the narrative initially developed, things seemed to fall into place much too easily for him. He enters this world by taking the place of a dead guy who looks just like him and who happens to have his own personal biography in his pocket, after having had a life experience that would allow him to succeed brilliantly at his new persona. And everyone just assumes his lack of memory is due to gas poisoning. I don't understand, was no testing done at the hospital to see he had indeed not been poisoned by gas? What about his tanned complexion? And he had to have an accent, even if he learned German from the age of 7. The guy admitted his vocabulary was more technical than anything! And then the right people seem to come across his path so easily as well, just the ones he needs, and who just spill their true thoughts to such a stranger, even though no thoughts are really allowed there.
All these questions and others bothered me throughout the story.
But the fact is it is a very disturbing one. The Germany described here is nightmarish in its potential to become real at that time. This book is astoundingly futuristic, in a way that I could not help but think how it all must have inspired Hitler. I mean, I was never much of a fan of History, but it seemed like the guy tried to replicate much of what went on here. That is so terrifying.
Although there were quite a few plot holes and I found the development of the story too easy for our main character, this is an amazing classic that everyone should definitely read at least once in their lifetime. Having just finished it, I am still chilled.
Read from Aug 28th to Sep 4th, 2016