Daily Archives:
February 12, 2017
And that is how you use an apostrophe!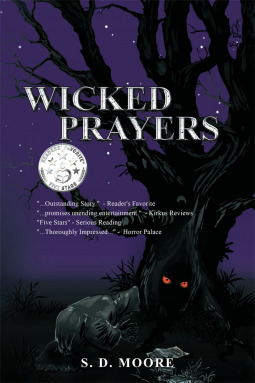 Title: Wicked Prayers
Author: S.D. Moore
Genres: Horror | Paranormal
Length: 246 pages | 3753 locations
Source: Netgalley
Format: Mobi
Rating: 1.5/5
Premise:
It all started with a priest not being able to let go of his wife and now dark forces are awakening in Autumntown.
Can the evil be stopped?
Review:
I usually read while eating. Couldn't do that with this one.
Man, there were some disgusting bits.
Wicked Prayers started really well for me. That prologue immediately grasped my attention.
But shortly after it all went downhill.
I just could not appreciate the characters. The dialogues felt like right out of the crappiest B-movie and the plot was so messily constructed that I could not enjoy the book.
When I was coming to roughly halfway through the book it started to majorly drag out for me. There were pages and pages of useless dialogue and I often innerly yelled Come on, get to the juicy part already and cut it out with the crappy attempts at humour!
The more I read the more it felt like a parody of a horror book instead of a proper one, with soldiers throwing lines like No hot girls are getting eaten on my watch! or Yeah the frickin Beast is a beeeast!
There wasn't even a proper evolution. One minute the characters did not believe in anything supernatural and then next they are (especially our main character Del) experts on how to kill the 'monsters' and how to make the Beast weaker.
I had to keep fighting the urge to skim through the text and trudged through most of the book. More and more characters kept being introduced (or rather dumped into the story) and I just could not keep track, nor felt any will to catch up by that point.
The ARC needs major editing. Lack of punctuation, missing words and misspells (even with main characters names) were just a couple of issues I constantly found.
Wicked Prayers is one of those reads that has so much potential but when you don't have believable characters it is just ruined, at least for me.
Disclaimer: I would like to thank the publisher and Netgalley for providing me a free copy of this book in exchange for my honest review.
Read from Feb 7th to Feb 11th, 2017
GR Review