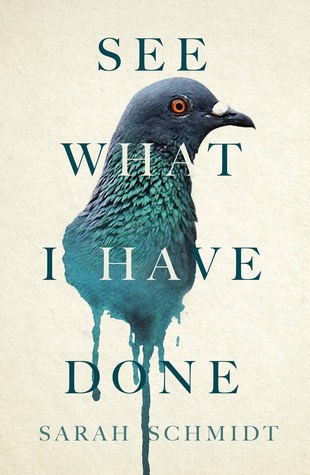 Title: See What I Have Done
Author: Sarah Schmidt
Genres: Crime | Historical Fiction
Length: 324 pages | 3368 locations
Source: Netgalley
Format: Mobi
Rating: 1.75/5
Premise:
On the morning of August 4th 1892 Lizzie Borden cries Someone's killed Father.
As we go through Lizzie's fractured memories, as well as three other people's entries, we try to figure out what exactly happened to Mr Borden.
Review:
Boy, I struggled with this one. At first I thought it was because I am not very used to Historical Fiction and the little I read the prose was not quite so lyrical and random, so I took it as a challenge to read something different and try to enjoy it. However, the more I read the less invested I felt.
I have read quite a lot of books where the narrative jumps back and forth and if done well it adds a new dimension to the story and I feel very involved in it, wanting to know what happened both back then and present day. But here it was just confusing. There are a lot of flashbacks in the middle of chapters so even when they were dated I never knew what was going on or when. One minute a character is having a pretty straight thought, then she thinks of something else and there's paragraphs and paragraphs of that and by the time that was done I had to really make an effort to remember what she was doing before and catch the thread of the narrative again.
The prose could be absolutely enthralling. Some descriptions were extremely vivid, reaching out to all our five senses and making me feel like I was there. On a couple of occasions where things got pretty gross I was actually sick to my stomach. But good writing is just not enough when nothing much seems to happen and it gets really tiring after a while. Sure, the characters were peculiar and the writing was very good, but after a while that is just not enough.
To this day I don't get why people kept eating a stew that was obviously spoiled. It felt like they had it for days but then again maybe it was just that one day.
And the worst part is I could not even get closure. The more the book approached the end the more enigmatic and riddled with innuendo the prose got. I never got how Bridget got her money back after it had been confiscated by the police, what was in the mutton broth and if it really was Lizzie who put it there and especially what happened to Abby and Mr Borden. There is only a half-hallucination by Lizzie about her father's last moments but nothing concrete.
I was extremely disappointed at See What I Have Done. I do think others will enjoy it if they are okay with this prose and not getting closure at the end of the book. It's one of those I classify under read it for the journey, not the destination, although I am sure even the ending will please folks who love lyrical writing.
Disclaimer: I would like to thank the publisher and Netgalley for providing me a free copy of this book in exchange for my honest review.
Read from Feb 17h to Feb 21st, 2017
GR Review