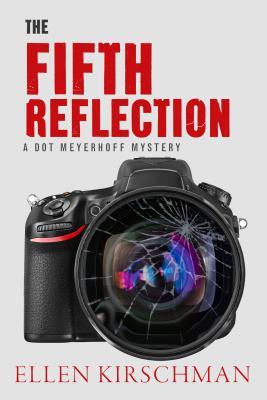 Title: The Fifth Reflection
Author: Ellen Kirschman
Genres: Crime | Mystery
Length: 272 pages | 3013 locations
Source: Netgalley
Format: Mobi
Rating: 3/5
Premise:
Dot is a Psychologist at the police Kenilworth PD in her fifties trying to give another chance at having her relationship. But when her fiancée's teacher and friend calls him distraught because her toddler was taken, this will affect both Dot's personal and professional life. Who took Chrissy? And what will finding the truth cost Dot?
Review:
The Fifth Reflection was not a bad book but it wasn't utterly amazing.
I actually really enjoyed the first chapter, almost more than the rest of the book, because of the familiar setting and the fact that the characters were older than I am used to finding in fiction I enjoy reading. It was interesting to see how they related and how they welcomed Frank's girlfriend into their mist. However, Dot came across as much more posh than she turned out to be, whereas Frank developed into almost the opposite, with all his fancy cooking.
When the author jumps back in time to introduce us to the very particular circumstances of Chrissy's disappearance, I lost a bit of interest, probably because it was a brake in the pace I had so enjoyed. And as the narrative evolved I could not understand why Dot kept inserting herself to the investigation when it was obvious it was putting a strain on her relationship with Frank and that the results of her doing so weren't good for the investigation either. It's almost as if she was investigating for our benefit. It would have made more sense to follow someone more personally invested in the event.
On the other hand, I enjoyed discovering what a psychologist at a police station is supposed to do.
Towards the end things just felt clumsy and rushed. Things begin falling into place much too nicely, with a character even spelling things out for us: It would cut down considerably on the investigation if this were a rare comestic not widely available for sale. I didn't even get why no fingerprints were recovered from either Chrissy, the blanket or the box. I don't remember any mentions of the perp wearing gloves.
The Fifth Reflection is not your typical psychological thriller full of twists and turns, where you are utterly surprised by each revelation. It has its own pace, with an unusual but fairly relateable main character and it was an enjoyable read, just not something I was absolutely looking forward to pick back up.
Disclaimer: I would like to thank the publisher and Netgalley for providing me a free copy of this book in exchange for my honest review.
Read from Mar 5h to Mar 10th, 2017
GR Review