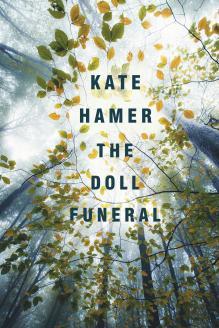 Title: The Doll Funeral
Author: Kate Hamer
Genres: Mystery | Paranormal
Length: 368 pages | 4060 Kindle locations
Source: Netgalley
Publisher: Faber & Faber
Publishing Date: February 16th, 2017
Rating: 2.75/5
Premise:
On her thirteenth birthday, Ruby finds out she is adopted.
From then on she strives to find her real parents. She will rely on the help of Shadow Boy and new found friends.
Review:
Phew, I was beginning to wonder if I would ever finish this one.
First of all, to say this blurb is misleading is an understatement. It is objective and succinct, everything the book is not. I could never have imagined this had such a lyrical style of writing based on it. Even Ruby's beatings were almost poetic and I did not appreciate that.
Quite often I wasn't even sure what was going on. And my attention would frequently wander. Also, though the descriptions were amazingly beautiful and vivid, I completely forgot what was important to the story itself.
I felt the book was unnecessarily long. There were entire paragraphs that didn't add anything to the story, maybe even chapters, like the Evil Book one. There was no reason at all to burn that book. I at least had long forgotten it by then. Sorry, book lover at heart here.
Yes, it all served to convey an atmosphere of how Ruby felt about what surrounded her and how it affected her, and the paranormal aspect was very subtle and approached in a way I had not seen before. However, I kept wanting the book to end or at least for something relevant to happen.
The Doll Funeral was a curious, new experience that I mildly appreciated.
Disclaimer: I would like to thank the publisher and Netgalley for providing me a free copy of this book in exchange for my honest review.
Read from Mar 19th to Mar 26th, 2017
GR Review