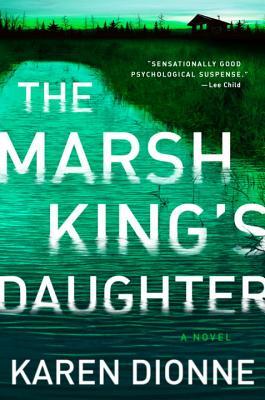 Title: The Marsh King's Daughter
Author: Karen Dionne
Genres: Mystery | Thriller
Length: 320 pages | 3194 Kindle locations
Source: Edelweiss
Publisher: G.P. Putnam's Sons
Publishing Date: June 13th, 2017
Rating: 4.25/5
Premise:
Helena grew up in the marsh, not knowing that her father had abducted her mother.
She has managed to make a life for her in the outside world but now her father has escaped prison. She is the only one who truly knows what he is capable of and hence the only one who can stop him. But at what cost?
Review:
Blimey, this was not an easy book! It is extremely psychologically charged and even though I had to suspend disbelief a couple of times, like when Helena mentions she taught herself to read when she was 3 or when she knows how to count out of the blue – and I definitely don't understand how Stephen could be married to her and not want to know where all the stuff that must have been clearly wrong with his wife came from, the fact is the author managed an amazing balance between making this character interesting while not imbuing her with knowledge she was not supposed to have acquired due to her isolation.
The book starts with an account of a normal day in Helena's life. She has her jam and jelly home business, a loyal dog and most importantly a beautiful family. Who don't have the slightest idea of her past. All that is jeopardised when her father breaks out of jail because she knows he will be coming for her.
The narrative is interspersed with snippets of Hans Christian Andersen's tale and I loved how it related to Helena's own story. In her account she goes back and forward between her time growing up and her current predicament. The pace succeeds at keeping the reader interested in knowing what comes next on both timelines, especially since Helena makes sure to include both her views as her child and as an emancipated adult.
For me, the novel brings the whole unlikeable character think to a whole new level. I tried to sympathise with Helena but it was not easy to read all the awful things she thought, particularly of her mother, even as an adult. Sometimes she said she understood her actions while others it seemed clear she didn't. However, this came around more nicely towards the end so I came to terms with her. Overall I find this an extremely well developed character and there was so much that could have gone wrong.
Still, at times Helena sounded so conceited and I especially did not get why she would underestimate her father, like she really expected to best him, just because she won a game – whose rules her father had made. This lack of humility is present throughout the narrative and it was difficult to accept. However, even the things I did not like made sense and she is after all her father's daughter.
I highly recommend this book but be prepared for some heavy stuff.
Disclaimer: I would like to thank the publisher and Edelweiss for providing me a free copy of this book in exchange for my honest review.
Read from Apr 29th to May 1st, 2017
GR Review