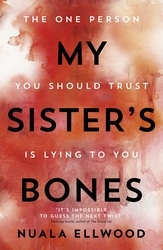 Title: My Sister's Bones
Author: Nuala Ellwood
Genres: Mystery | Thriller
Length: 400 pages | 3605 Kindle locations
Source: Netgalley
Publisher: Penguin UK
Publishing Date: March 28th, 2017
Rating: 3.5/5
Premise:
Sisters Kate and Sally have been estranged for years. When their mother passes away and Kate returns to her hometown, she is faced with all the memories of her childhood and her sister's degradation.
Sally has become an alcoholic and her husband Paul thinks only Kate can help her. Can she do it? And if so, will she keep her sanity?
Review:
My Sister's Bones features the mother of all unreliable main characters. Our Kate is a war reporter and to say she has skeletons in her closet is and understatement.
In Part 1, the narrative advances between current events, where Kate is locked up, and the previous week's, when she returned to her hometown after her mother's passing. As the story advances we find that Kate refuses to deal with her hallucinations, a result of witnessing such horrors, and that several bad things have happened both recently and as Kate was growing up.
During that first part I found some things quite repetitive and Kate annoyed me both in past and current accounts. Her insistence that the interviewer must not realise the truth about her state of mind particularly irked me because it seemed obvious to me that she needed help.
Towards the end of part 1, about halfway through the book, things start to get interesting and in Part two the narrative is done by a different character. After that I was really invested and wanted to know what came next.
So I didn't find the stuff that happened in the first half that interesting and I actually had to fight the urge to skim through the text because the unreliability of the character was taken to extreme. I didn't know what the heck was going on. On the other hand, I found myself exhausted by the book. All the characters and situations were so dismaying.
I had anticipated some of what happened or at least who was responsible but I was still quite surprised at a few revelations.
A solid 3.5 stars.
Disclaimer: I would like to thank the publisher and Netgalley for providing me a free copy of this book in exchange for my honest review.
Read from May 18th to May 21th, 2017
GR Review