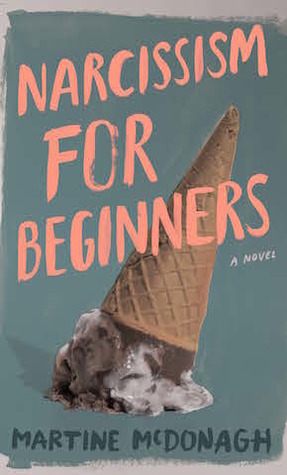 Title: Narcissism for Beginners
Author: Martine McDonagh
Genres: Contemporary | Humour
Length: 208 pages | 2807 Kindle locations
Source: Netgalley
Publisher: Random House UK
Publishing Date: March 9th, 2017
Rating: 4/5
Premise:
When Sonny turns 21 years old he embarks on a journey to find out more about his origins.
As he goes through 5 letters his guardian wrote to him, while making disturbing discoveries on his own, Sonny's world takes quite a turn.
Review:
Narcissism for Beginners is the story of a breezy young man who's been through a lot and is about to go through a lot more emotional turmoil. It addresses difficult subjects such as different kinds of dependency – emotional and substance, to name the most frequent, and Sonny's sarcastic tone helps cope with that.
I enjoyed this book. The writing is at times too rambling for my taste but at the same time it's part of its charm. The breaks of pace when Sonny would abruptly change what he was narrated kept me interested.
The book is written in second person singular, as a letter addressed to Sonny's mother, and despite the somber tone the ending was redeeming enough.
I recommend it, but you probably need to have a stomach to deal with heavy stuff.
Disclaimer: I would like to thank the publisher and Netgalley for providing me a free copy of this book in exchange for my honest review.
Read from Sep 25th to Sep 28th, 2017
GR Review