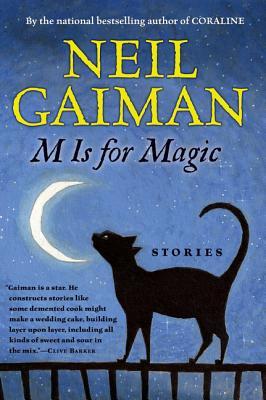 Title: M Is for Magic
Author: Neil Gaiman
Genres: Children | Fantasy | Paranormal | Quickies
Length: 272 pages
Source: Purchased
Format: Paperback
Rating: 3.75/5
Premise:
A collection of 11 short stories by Neil Gaiman.
Review:
I had read 5 of these stories in other Gaiman books but even those were a pleasure to reread.
Gaiman has such a way with words. At times I was a bit frustrated because a lot was left unsaid and I need resolution to feel fully satisfied but I can admit it is part of the magic. They are short stories, little snippets of magical worlds spun from a mind I cannot help but admire.
Admitedly, I did not find all of them enjoyable. Sunbird in particular seemed to stretch on and on forever and ever and it did actually bore me, although the ending was surprising.
My favourite tales were The Price, Chivalry and October in the Chair – even if this last one had me on my toes to know what happened next.
These stories will please young folks as well as older ones and they make for a wondrous, quick read, so I definitely recommend the book.
Read from Jun 15th to Jun 19th, 2016