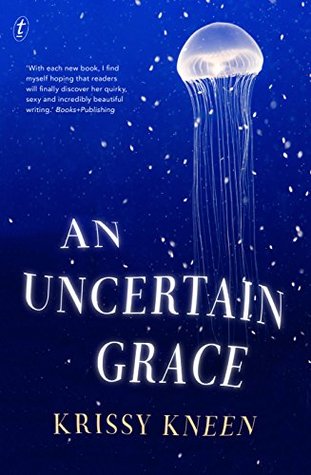 Title: An Uncertain Grace
Author: Krissy Kneen
Genres: Erotica | Science Fiction | Speculative Fiction
Length: 238 pages | 2337 Kindle locations
Source: Netgalley
Publisher: Text Publishing
Publishing Date: January 31st, 2017
Rating: 4.5/5
Premise:
Five erotic short stories taking place in a near future.
Review:
It's been quite a while since I so thoroughly enjoyed a collection of short stories. Considering they are classified as erotic, the detail put to speculative fiction was outstanding. These make the reader completely reconsider sexuality as a whole while taking him on her on enthralling experiences. They are all connected by a common denominator and are chronologically order, taking the reader on a trip where we see the world changing, along with the characters.
The first story introduces us to a uni English literature teacher who is presented with a work by a former student. This is not just any work though, it's an interactive narrative where the reader not only does what the author wants but also feels exactly what the author wants him or her to feel. I absolutely loved the way the author transcribed this idea to her story and we get to watch a fairly normal guy coming to terms with the fact that he might just be despicable.
I have a feeling woman and men will have different reactions to this story. Some of the scenes were so raw and yet I felt emotional. This was quite brilliant.
The second story comes from a different place. It is actually a sci-fi experiment.
What if you could merge with other beings?
The way the concept was introduced was quite astounding. You cannot help to relate to this guy, even though he must have done something really bad to have gone to prison for that long. Still, his childhood memories as well as his longing for them make him a person, and one with feelings, and you cannot help to relate.
The third story is about a robot who looks and feels human and was created for a unique purpose – to study hebephiles, people who are attracted to adolescents. Some scenes are difficult to take in as they are quite disturbing – even though you are seeing things through the eyes of Cameron, the robot. You can feel his own struggle to try and understand how a normal 13-year-old would react, so that the data collected during the experiments is as accurate as possible. And yet he cannot help but think of his place in the grand scheme of things.
The fourth story is less about sex and more about gender. It's getting easier and easier to transition between both sexes, and even staying somewhere in the middle. These are the sexual experiences of one such person who wants to transition to centre – neither man or woman -, while trying to deal with her feelings towards her sexuality, her partner, and her mother.
The final story is about a woman who lived well into her one hundreds and still remembers a time when fish weren't practically extinct. This one explores life after that and what you could experience in such a state.
Reading what I wrote above, I cannot help but feel my descriptions of the stories are very diminishing. The fact is I felt enraptured by them. At times disgusted, others excited and always curious to know what came next. I am not too sure about the Liv character, it did not struck me as believable that she is described as a teller of stories and yet we see her in scientific roles. But I do know I enjoyed this immensely and highly recommend it.
Disclaimer: I would like to thank the publisher and Netgalley for providing me a free copy of this book in exchange for my honest review.
Read from Aug 29th to Sep 8th, 2017
GR Review