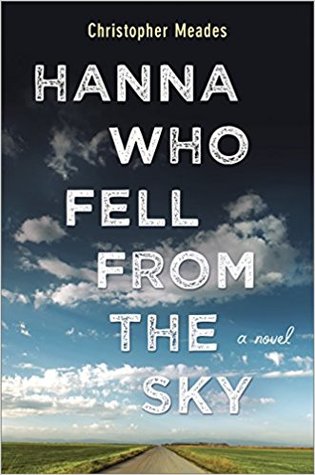 Title: Hanna Who Fell from the Sky
Author: Christopher Meades
Genres: Contemporary | Magical Realism
Length: 342 pages | 4059 Kindle locations
Source: Netgalley
Publisher: Park Row
Publishing Date: September 26th, 2017
Rating: 2/5
Premise:
Hannah is about to turn 18 and on her birthday she is to marry a man over twice her age.
A week before, she finds herself questioning for the first time in her life why things are the way they are and what they would be if she were to leave the tight community of Clearhaven. A cryptic story her mother tells her only intensifies her desire, as well as meeting enigmatic, Daniel.
Review:
I wasn't too sure what to make of this book when I started reading it because even though I enjoyed reading about Hannah and her way of life there were quite some ramblings that, to me, felt pointless. I tried imagining how other characters would view her and could only think of an airhead.
I often found myself wondering who this Hanna was before we were introduced to her. Was she always this absent-minded? Is there really anything to her, besides not wanting to be married to a man more than twice her age and imagining a brave version of herself?
As the story progressed, instead of feeling more engaged I ended up disliking the character more and more, especially when she wanted to leave not because the entire concept of how things were done but because she was so speshul and therefore meant for so much more. And she wonders why other women hate her.
Sadly it was another instance of a very interesting premise being poorly executed. Even the ending was lacklustre and lacking the feeling of redemption I craved. Cannot say this one was a pleasant experience.
Disclaimer: I would like to thank the publisher and Netgalley for providing me a free copy of this book in exchange for my honest review.
Read from Jan 14th to Feb 1st, 2018
GR Review